Patterns and Other Items of Interest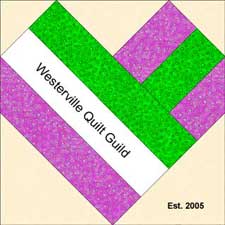 Guild Badge Pattern
Word "doc" pattern for the paper pieced heart badge, shown in the graphic here. We also have a matching pin available for $5 each.
2017 President of the Month Training
Here's the information you need when it's your turn to be President-of-the-Month. It's available as a PDF for you to view and print.
Bag Instructions
Easy Breezy Tote
Fabric Tote Bag
Hip Pockets Purse
Just Bright Quilted Messenger Bag
Market Bag
Charm Quilt Templates and Patterns
From the pages of Fons & Porter's Love of Quilting comes Charming Diamonds a charm quilt pattern. Using 5" charm squares and instructions for working with 60-degree diamonds, create a stack of cubes for a charming wall hanging. (NOTE: Pattern is a PDF from the magazine, so please note page numbers at the bottom left and right corners for page sequence!)
Christmas Stocking Patterns
Attached is a PDF with resources for a variety of Christmas stocking patterns.
Ditty bags, towel bibs and wheelchair bags
Disappearing 9 patch quilt pattern (more detailed instructions)
Legion Hall Floor Plan Use this to show table set-up for meetings.
One-Patch Quilts from Quilter's Newsletter Magazine an article with templates for creating quilts using your charm squares and a single patch. Includes ten traditional one-patch templates.
Pillowcase Instructions
Attached is a PDF of the instructions for making the Hot Dog Method pillowcase.
Tips, Tricks, Tools - The Collection
The Westerville Quilt Guild Collection -Thanks Irene & Becky!
A Thread of Truth - A Factual Look at Sewing Thread
A great brochure by YLI Corporation that covers just about everything you might want to know about thread and needles too. For more information visit YLI's Web site: www.ylicorp.com.